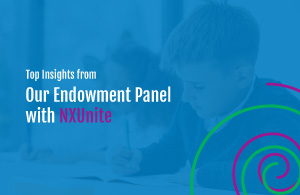 Endowments don't have to be hard. With Planned Giving in your back pocket, you could have your first endowment fund conversation secured by next Monday. Or maybe Tuesday, if you have a busy Monday.
In August, Tony Martignetti, Planned Giving evangelist and founder of Planned Giving Accelerator, was joined by Karen Houghton at Infinite Giving, John Griffith at Hirtle, Callaghan & Co., and Cathleen Rittereiser, Co-Author of Foundation and Endowment Investing, for NXUnite's "Endowment Excitement: Fundraising & Management." The panelists journeyed into the realm of endowments, focusing on how Planned Giving provides a great starting point for endowments, how to have a conversation about Planned Giving with donors, and five endowment management best practices.
Where should you start?
When Tony was asked what he would tell someone who is new to the endowment world, his immediate response was, "Planned Giving is an ideal way to host an endowment." Whether it's for the creation of the endowment or to continue funding your already robust endowment, Planned Giving is an uncomplicated way to secure your organization's future because the vast majority of planned gifts come unrestricted.
The most basic and popular planned gift is a bequest in donors' wills. This simple and fast way to launch Planned Giving involves reaching out to your donors about adding a gift to your organization in their wills. Because everybody knows what a will is, everybody needs a will, and everybody knows how they work, wills are a great place to start— you don't have to educate your donors about more complicated types of giving.
Who gives planned gifts and how do I ask for them?
There are many misconceptions about Planned Giving— it's often thought to be technical, take a lot of time, and require a lawyer. But, Tony assured the audience, this is not true. Once you've decided that Planned Giving is how you want to acquire funds for your organization's endowment, the first step is to talk to the folks who love your work: your long-term, committed donors.
Your best prospects for planned gifts are your loyal donors aged 55-60 or older. Tony asked the audience, within that demographic, "Do a couple of people come to mind?" He emphasized that the size of these donors' previous gifts is not what's important. Instead, you should focus on their loyalty and commitment to find a terrific Planned Giving prospect. Besides these few donors that you can list off the top of your head, mine your database for other loyal donors 55 to 60 years old or older.
Once you've found your top prospects for Planned Giving, pick up the phone on Monday and call these folks. You already know them well from their history of giving, and you have a relationship. Tell them that your organization is now hoping to focus on long-term gifts, and simply ask, "Is that something you'd be interested in?" These phone calls can open the door to a much larger conversation about planned gifts but don't require a major campaign launch. Instead, Tony was sure to make clear, it's something you can begin to imagine as early as next Monday.
You've started your endowment— now what?
While endowments might seem like daunting and even abstract sources for funding, they don't have to be. With Planned Giving, the road to starting an endowment can be as simple as conversations with your donors. But once you get your endowment started, you need to make sure that you're on the path to success.
Cathleen shared 5 best practices for people fundraising and managing endowments, which she termed "The 5 Ps:"
Purpose: As you increase your endowment and continue its management, ensure that you always have your organization's mission in mind and understand what the objectives are. Know your goals and values.
People: As all of the panelists emphasized, there are people who can provide investment advice and other endowment management tips. Know who these people are within your organization and establish a proper governance structure. Ask yourself, "What kind of governance and advice do I need to support this large undertaking?"
Policies and processes: Make sure your organization incorporates the appropriate policies for your endowment management, and document these policies to help you when you need to make effective, or even difficult, decisions.
Portfolio: Maximize returns by having the right advisors and the smartest approach to managing your investment portfolio.
Performance: Ask yourself not only, "How well is your endowment fund growing?" but also, "How well are my advisors and teammates performing their roles?"
Keeping these 5 P's in mind will maximize your investment by ensuring that you have strategies in place and the mindset for the most effective and efficient endowment possible.
While endowments can be billions of dollars in restricted funds managed by a complex system within a university or college, they don't have to be. And Planned Giving is one of the best ways to ensure that you keep your endowment simple— so simple in fact, that you can call some of your most loyal donors next week and get started.
Panelists on NXUnite's "Endowment Excitement: Fundraising & Management" broke down how endowments work, provided the audience with easy ways to start an endowment, and shared some basics for managing your endowment. While audience members likely didn't leave the panel feeling as if they knew everything there is to know about endowments, the panelists reassured the audience that endowments aren't as out of reach as you might think.